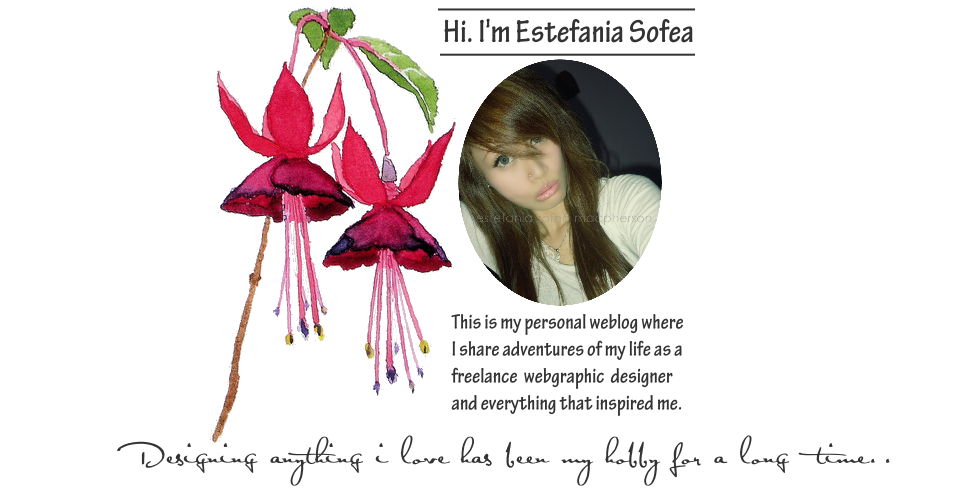 My name is Estefania Sofea Zahara Macpherson. I'm a blogger and web designer, but I'm definitely an Interior Designe thingy. Kristabella Daily Talks blogs is where I write about web/blog design, free templates, freebies, vector, random images and anything else I'm wildly excited about. Though my posts verge on cute and girly, they're informative, and that's just right for my audience of fashion bloggers, artists, craters and designers who want a gentle introduction to the technical side of blogging (i.e. HTML, CSS, and Photoshop). I have 2 degree includes Corporate Communication from KLIUC and also Twin-Degree in Interior Design and Interior Architecture (HONS). I hope you enjoy my blog!
I'm self-taught and I'm happy to share everything I learn with you as
tutorials
. If you see any egregious errors in my photoshop or web tutorials, by all means, please let me know.
GRAPHICS
The process of learning involves experimentation and I've made lots of stuff along the way. Part of the fun is sharing them and I've made them available to you. You will find lots of
freebies items
and
extras
resources in the form of blank blog templates, social icons, font that i use and a lots more. You can download many of them for free but make sure keep my blog a credit.Thanks.
TERMS OF USE
I have a generous license which allows commercial use, but please read my
TOU
thoroughly before downloading and contact me with any questions.
* Anugerah Sepanjang Zaman
-Best Female Dancer 2006 (win a dance competition at zouk,kl,) win trip to Italy & U.K to represented Malaysia for international competition.
-Winner of best female hip hop & freestyle dance (2004,2005,2006)
Estefania Career Background
Songwritter-

At early age 14 years old and her first song named 'Shadow of You' and she also joining 'Crystal Band' when she was 15 years old, she quit the band when she reached her age 18 years old due to some conflict.However, she have wrote more than 20 songs & sings all around the city.She's best known for her 'soft voice'.


Dancer-

She started her first dance when she 5 years old at ballet school somewhere at Dublin. She also have her own dance crew and known as 'Rose 69 Crew'.She's wins a lots of dance competiton around Malaysian & International. She knowns as 'the best female dancer' when she beats the U.K Dancer on 2006 & 2007.


Modelling-

She actually accompany her cousin, Sheila for modelling audition when their age both 16 years old.Unfortunally, her cousin had been left out and she got chosen by the jury.She said 'I never expected this, but i willing to give a try' and after that, she've signing off the models contract with Andrew's Model Agency & Zagreen Agency.However, she quit modelling on 2012 .


Job-

She's have her own lovely job as interior architecture and working together with her Brother, Sylvester Macpherson until now.She said ' I love my job now :)'

All Estefania career info is listed by Fanpage Admin-
Disclaimer
I will edit, alter, update and change this page – and all the postings within it – at any time in order to keep it as accurate, fair and correct as I can. My sole objective is to serve my readers with the best information I can collect. Everyone else, you're on your own. Lastly,make sure you grab my banner and link it back to my site.;) Thank you for visiting.This is my blog, as you all know.So that means no one is allowed to copy anything here without my permission.Spamming also is forbidden. Rude / vulgar words in my tagboard will be deleted. And lastly, enjoy your stay here. (:
1)
No
spamming
or
vulgarising
the tagboard.
If you have something mean to say here, go repeat it fifty thousand times in front of a mirror :).